In June, R+D had the wonderful opportunity of being apart of the Pre-Filled Syringes Conference in San Diego, Calif.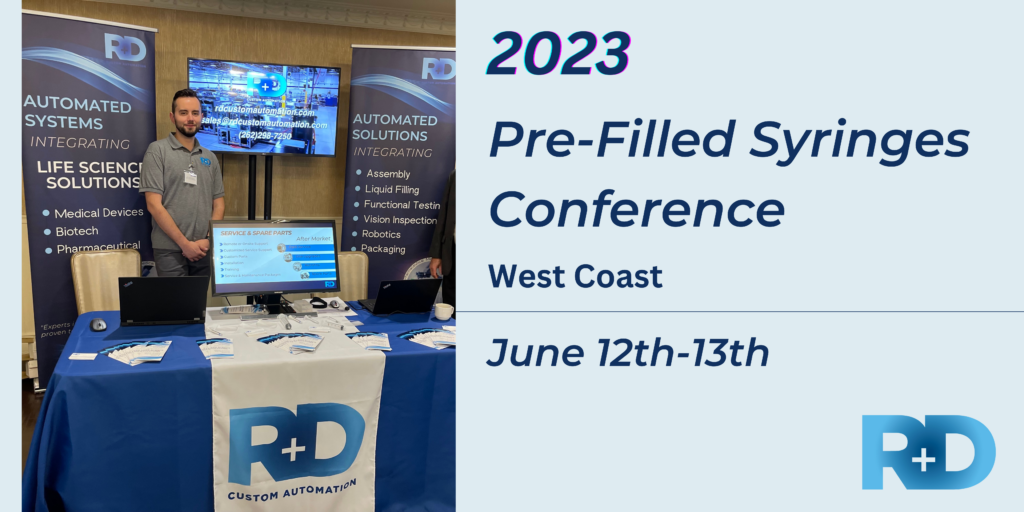 As a specialty equipment manufacturer, R+D has gained prominence by integrating proven technologies into custom and platform-based solutions, solving the most complex production challenges for manufacturers in this space, including Medtech, Biotech and Pharmaceutical companies.
Our custom offering covers a wide bandwidth of processes, including Assembly, Filling, Testing, Bag Making/Forming, Mold-Side Automation, Labeling, Kitting, Tray Handling, Pack-Out and Sealing, among others. Our filling expertise extends beyond the typical, bringing to the marketplace solution platforms for your low, medium, and high-volume requirements. R+D goes beyond providing just the automation, and that starts with our Process Development Segment.
Through early partnership, we are with you from the very beginning of your process development, providing prototype and proof-of-concept solutions through every maturing production step along the way, into semi-auto, moderate and high-volume needs.
From our humble beginnings in 1977 to our present-day state-of-the-art facility in southern Wisconsin, R+D has become a premier provider of automation equipment for the most recognized Life Sciences companies in the world.