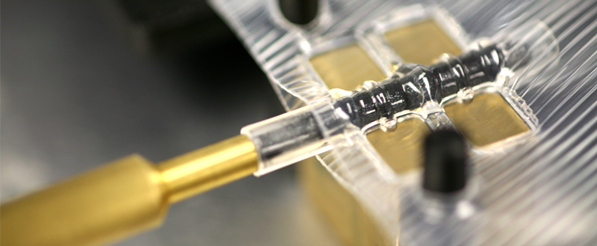 50/100 mL IV Bag Making Machine w/ Solid State RF Welding
R+D Custom Automation has been awarded a contract to design, manufacture, and install a Bag Making Machine using RF Solid State Generators to form, cut and produce 50mL and 100mL PVC IV Bags. The machine will be staged in an ISO 7 Clean Room.
The bags will be produced in a 5-up configuration and will be capable of producing up to 42 Bags per Minute. The finished bags will be filled with a customer specified drug that will be used as part of a cassette pump system to deliver the drug to patients.
Two (2) PVC rolls are introduced at the beginning of the system for the top and bottom layers of the bag. These are then indexed by a servo-driven clamp to proceed to the next station. Five (5) tubes are fed into the system from a vibratory feeder bowl and welded into each of the five bags. Next, a seal is created to form the perimeter of the bag. Finally, the bags are cut into shape utilizing a die-cutting system and are offloaded onto a belt conveyor.
"Experts in integrating proven technologies into custom solutions"